Casey Countach (1978-) is a former pace car and current competitor in Racingtire Sports Car Series and is a CARCA fan for life. He was involved in a brutal crash where he slammed into Russell Maximum and Justin Saturn and then hopped the fence, with parts of his front flying into different racers, with 2 being killed by the flying parts. His brother JMSC racer Cary Countach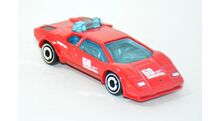 As a Pace Car
Edit
Casey was a pace car from 1986 to 2011. He was the pace car for Racingtire Sports Car Series, Jupiter Motors Supercar Cup, and Junior Hypercar Series. He barely said anything. Just the same cold stare..... He'd stare in front and just keep going.
And of course, cars were impressed. No, really, they were.
"Casey's amazing. He loved what he did, and he did it and nothing else. Sure, he wanted to race, a HUGE amount, but his pace car skills kept many cars very safe."
-Justin Saturn

Casey finally got his chance to race in 2011.
2011-2018
Edit
Casey Countach did well in his racing debut, applying his pace car skills to competing. He won all three series he was pace car in, and did just as well in 2012 and 2013. Casey lost one in 2014. But he stayed determined.
Casey only won 1 championship in 2017, and was rivaled by a lot of the faster cars. He still won, but not as much.
2018 (Wreck) Edit
Casey raced at End Game Endurance Raceway. He was ahead Justin Saturn and behind Russell Maximus. Russell lost control, and slammed into Casey, who ended up careening into a wall, then Casey hopped the fence, causing his front to get destroyed. He rolled several times before stopping and was destroyed. He was airlifted to Racingtirian Intense Care. He was able to survive this wreck and was eventually fixed. He plans to race again in 2020.